Tanzania-Germany Visit (Part1-Tanzania) (Oct.1-11, 2017)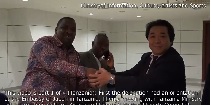 The Mayor of Nagai, Mr.Shigeharu Uchiya, accompanied with a group of 20 Nagai representatives visited Dar es Salaam, Tanzania and Bad Säckingen, Germany. The visit to Tanzania was in regards to the Tokyo 2020 Olympic Team prior to the Games. Coinsiding with the trip to Tanzania, the delegation made a friendly visit to Nagai's sister city, Bad Säckingen in Germany.
This video is part 1 of 4 (Tanzania): First the delegation had an orientation at the Embassy of Japan in Tanzania. Then a meeting with Tanzania Ministry of Information, Culture, Artists, and Sports & National Sports Council at Tanzania National Stadium.
2018.04.12:[2ch メッセージ]